VicHeli 4k version
A downloadable game for Windows, macOS, and Linux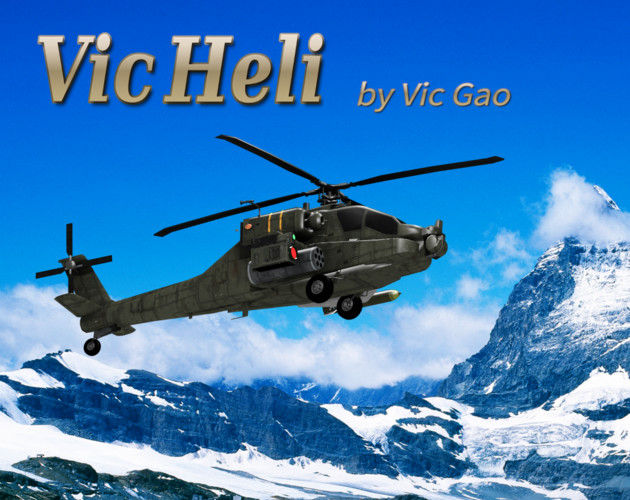 Solo dev Vic Gao developed both the game engine and the game.

Helicopters, high-speed military trains, artillery, assault missiles, interceptors, airborne machine guns and anti-aircraft guns, ground attack bomb, decoy bomb, search radar and other detail lifelike weapons and equipments, intense fighting process, bring intense and interesting war game experience. The game could run on Windows/MacOSX/Linux/Browser, supported largest screen is 4k, lower than 4k screen can adapt automatically.

If you are a military game player, great! the author Vic Gao is also a military enthusiasts. All the details of the game, are made by a military enthusiasts programmer with heart love, believe that other military fans will enjoy it!

If you are interested in the game industry, and want to know how some people make games, take a look at this game. Vic Gao is very willing to share with others, he is writing a review about this game on his blog. His blog links can be found on vicgao.com.
If you are interested in programming and AI techniques, take a look at this game. Vic Gao not only created the game engine and the game in solo mode, but also create a set of automated AI tools that automatically translated the game's java code into javascript code. By own engine, the game can run smoothly on low-end hardware, and the game package is very small, the HTML5 720P version less than 1.5M. This game could run on Windows/MacOSX/Linux/Browser. The author shared a lot of experiences and ideas on his blog.
If you like lifelike details of a game, look at this game! Every detail of the game is carefully crafted.

If you want to develop your own game, look at this game! This is a game developed in solo mode.

If you're a JavaScript programmer, take a look at this game! This is the original motherboard of a Java game, and then through the AI tools automatically translated into javascript code.

If you want to design your own game engine, take a look at this game! This game's engine is made by a programmer.
Purchase
In order to download this game you must purchase it at or above the minimum price of $35 USD. You will get access to the following files:
vicheli-macosx-4k-english.tar.gz
144 MB
vicheli-macosx-4k-french.tar.gz
144 MB
vicheli-macosx-4k-chinese.tar.gz
145 MB
vicheli-windows-4k-english.zip
72 MB
vicheli-windows-4k-french.zip
72 MB
vicheli-windows-1080p-chinese.zip
50 MB
vicheli-linux-4k-english.tar.gz
141 MB
vicheli-linux-4k-french.tar.gz
141 MB
vicheli-linux-4k-chinese.tar.gz
141 MB